Shrinkage in Canada exceeds 5.1 Billion Dollars in 2017!
On sales of over 355 billion dollars, Canadian Retailers suffer losses at a rate of 1.44% of sales last year. That equates to over 5 billion dollars.
Shrinkage is the accumulation of losses caused by crime and errors.
Here's the breakdown
That amount can be broken out into 4 major categories with some residual amount being truly "unknown", although some might argue that it is all unknown given how the number is arrived at (physical count conducted and compared against book value). Crime is by far the biggest contributor and solutions outlined on this website will be broken to address some of the main techniques used by criminals – both from a customer perspective as well as an employee.
The amounts are extreme when you think of other crimes in Canada. And the shrinkage related to employee theft should be alarming to anyone who is trying to run a legitimate business and make a profit.
This table outlines the dollar amount attributed to each category;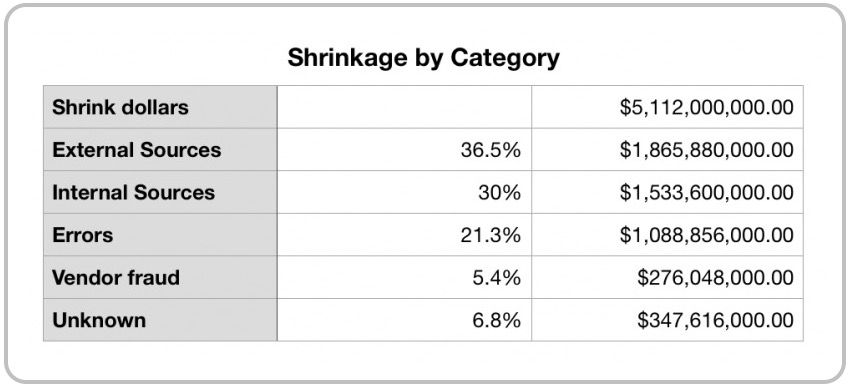 Data Source: NRSS University of Florida • Read more on shrinkage
There are some other numbers we know about in terms of what happened last year that may be useful to you. For example, on average the respondents to the survey indicated that the average dollar value of customers arrested for theft was $175 per incident, but that was small compared to the average associated with employee theft which was $2562.
The reason the amount is much greater for employee theft is access, trust, and controls.
Access + trust – controls = higher likelihood you will fall victim to employee theft.
In the following table, we show the actual number of incidents the shrink correlates to. Keep in mind that since the shrink is an unknown until inventory time,

This tells us that over 10 million times last year, a customer was able to successfully steal from a Canadian retail store. That's 29,000 times per day! It may not have been your store, but if you have any losses at all, then chances are that you are just as vulnerable.
The sad news is that almost 600,000 incidents of internal theft or fraud went undetected. And they may still be working for retailers today!
The Bottom Line is this; there is way too much criminal activity taking place, and we know the why, and the how. So with some simple solutions, retailers can take a huge bite out of this crime and protect their bottom line.
Why is retail such as huge target?
Quite simply, you have what the criminal wants – product, cash, and access to the point of sale system. As long as there are criminals, retail will be a target. The differentiator is how hard the retailer makes it for a criminal.
Step by step, we will cover every aspect of this so you can harden yourself as a target. We will deal with employee crime and access. We will deal with the trust factor. And we will teach you how to implement adequate controls to prevent employee theft.
We will also teach you about customer theft and fraud, what you can and can not do, and how to remove the critical element of opportunity that motivates dishonest customers to steal.
But first…Step 1!
Share the numbers outlined above with your employees. If they are to help, they need to know.

Hello, I'm Stephen O'Keefe. The information you read here is intended to help businesses answer some of the tough questions about everyday events in the retail environment. After spending over 3 decades in this industry we've seen a lot!